A paper mill is a factory devoted to making papers from vegetable fibers such as wood pulp, old rags, and other ingredients. Prior to the invention and adoption of the Fourdrinier machine and other types of paper machine that use an endless belt, all paper in a paper mill was made by hand, one sheet at a time, by specialized laborers.
Ingredients
Acid Slurry (LABSA) 250 Kg Drum India Foaming Agent.
Aluminum 25 Kg bag Bangladesh enhance delignification.
Apple Starch tapioca 25 Kg bag Thailand stiffness, strength, whiteness.
Calcium Carbonate 50 Kg Bag Bangladesh filler material.
Calcium Sulfite 25 Kg bag China treating wood chips.
Caustic Soda 50 Kg Bag Bangladesh Bathing Agent.
Chlorine 30 Kg Jar Bangladesh Pulp bleaching.
Dolomite 50 Kg Bag Bangladesh Strength & Opacity.
Enzyme 50 Kg Bag China loosen the ink from fibers.
Hydrogen Peroxide 30 Kg Jar Bangladesh bleaching & delignification.
Maize Starch 25 Kg Bag Thailand dry strength and surface improvement.
Modified Starch 25 Kg Jar Thailand best quality starch.
Soda Ash Light 50 Kg Bag China softening water.
Sodium Bisulfate 25 Kg bag China regulate acidity.
Sodium Carbonate 25 Kg bag China chemical recovery process.
Sodium Chloride (Salt) 50 Kg Bag Bangladesh liquor recovery.
Sodium Hypochlorite 30 Kg Jar India bleaching agent.
Sodium Silicate 340 Kg Drum Bangladesh Flotation deinking & Adhesive.
Sodium Thiosulfate 25 Kg bag China stabilizers & chelating.
Titanium Dioxide 25 Kg bag Korea High Gloss & Opacity.
Market size of paper & pulp industry worldwide from 2021 to 2029
Bangladesh paper industry, which now markets its products in some developed countries even, holds huge potential for boosting export if over half of its dormant production capacity is used to exploit unfolding global trade.

Industry people express such view as the paper-manufacturing segment of the paper sector in the country, which was once mostly dependent on import, now looks to widen its footprint on the international market amid some fortune change.
Paper-sector entrepreneurs, as such, regret that some government offices still nurture a penchant for foreign papers imported by spending hard-earned foreign currencies.
Paper mills of Bangladesh
Al Noor Paper & Board Mills
Bashundhara Group
Nitol Group
Partex Group
Sonali Group
Azmat Ali Group
Azad papers
Magura Papers
Bangladesh paoers
Creative Papers
Megna Group
Lipy Group
Himachal & Himaloy
S Alam Group
TK Group
Karna Phuli Papers
Papertech
Alif Paper & pulp
Purbachal Papers
Mahera Paper Mills
Integrated Paper Mills
An integrated paper mill has the necessary on-site capabilities to convert round wood (ie trees & branches) first into pulp, and then into paper. Integrated paper mills are usually found close to the essential resources they need, mainly timber and water.
Integrated paper production is very cost effective. For example, the bark stripped from the wood used is converted into biomass and used to generate the power needed to produce the paper. In fact, a modern, integrated mill can be up to 95% energy self-sufficient. In addition, unused heat from the mill is supplied to the local community to heat their homes.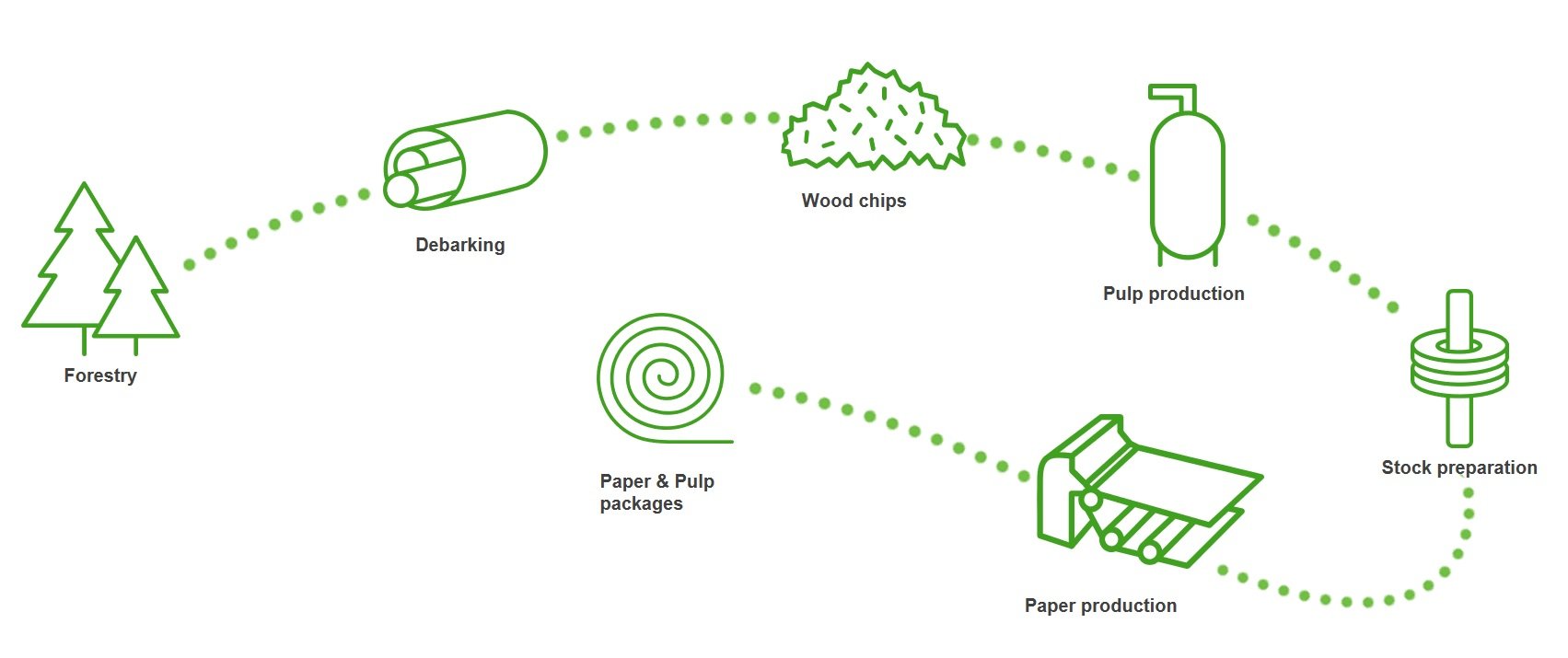 Non-integrated Paper Mills
By contrast, a non-integrated paper mill uses dried pulp as the starting point for paper making. Dried pulp is made in special machines at integrated mills or at non-integrated pulp mills and sold on the open market.

While integrated mills offer the very highest levels of cost effectiveness and efficiency, they are less flexible than non-integrated mills since they are set-up for very high production. Integrated mills are also usually limited to using wood from relatively local forests.
Non-integrated mills can never be as cost effective as integrated mills, but they can use pulp from anywhere in the world and are therefore able to achieve a more complex blend of fibres to give beneficial properties. Non-integrated mills also typically have lower minimum order quantities since they are batch processes, and they can utilize more non-cellulosic additives which are not suited to integrated paper making. Lastly, medical packaging papers intended for steam sterilization benefit from being manufactured from dried pulp.